Welcome to my homepage.
This software help you to make copies of your cd / dvd disc.
 
It use ImgBurn to create an image of your disc then burn it to a new disc.
 
There is some options like:  verify, eject, shutdown the computer.   It can save the settings in the registry or in an ini file, even in a batch file.  This software does not need installation, copy it anywhere you want then go in the settings to create a shortcut on your desktop.  It is bilingual and you can add your own custom languages.  You can launch your software, images, music... and more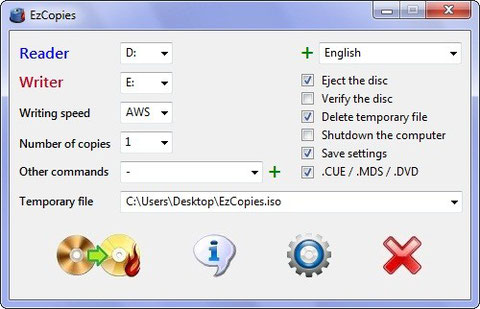 This software is FREE.  No virus and no spyware.   No installation is required.

You can freely distribute it, but you are not allowed to modify it.
Made by Gosseux with AutoPlay Media Studio 8 Personal Edition.
Compressed with 7-Zip.
Please do not use this software to make illegal copies.
Tested on Windows XP, Vista & Windows 7
* ImgBurn is required.